People don't usually wear scrubs to make a fashion statement. Scrubs are the outfit of choice for medical and wellness professionals because they are simple, easy to clean and relatively cheap to replace. But over time, scrubs have become important for another reason. When a patient sees someone wearing scrubs, they feel comforted, knowing that this is a person who will assist them.
Whether you're working in a clinical environment, a local practice or in an office, it's important to set the scene for patients, and make a positive first impression. Making sure they feel secure and confident in the treatment they're about to receive, and the best starting point is by having a well-presented team.
Oh, and forget about the idea that scrubs need to be blue or green! Modern scrubs let you express yourself with a variety of different colours, designs and styles. Choose one combination for your crew, or let people mix and match.
After you've selected the colours and patterns to outfit your team, it's important to keep them looking good. Rather than having to replace scrubs frequently, make sure that your team understands the best ways of washing scrubs and looking after their sets.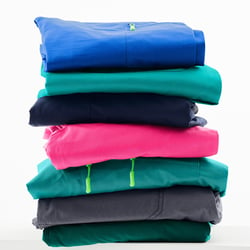 Looking after scrubs


1. Make sure you are washing scrubs and storing them separately
Scrubs need to be disinfected and it's important that they are not washed with regular household laundry. It's essential to take them off after finishing work and pop them into a separate bag. Keep them separate to your regular laundry basket when you get home, and make sure you have a dedicated place to store your dirty scrubs.
2. Avoid the hot wash
Washing with hot water can actually set stains and is tougher on your scrubs, meaning that you get less wear out of them. Turn cotton scrubs inside out and wash in cold water. Polyester and cotton blends can use a warm wash cycle.
If you want to avoid using a heavily-scented commercial fabric softener, add a half cup of white vinegar to the rinse cycle. Pay attention to your water levels too. It's a good idea to use more water rather than less so that your scrubs have room to move.
3. Disinfect when necessary
If you're exposed to any infection, you'll need to disinfect your scrubs. White cotton scrubs can be disinfected with chlorine bleach. Coloured and patterns scrubs need a pine oil disinfectant, which should contain at least 80% pine oil.
4. Use a colour-safe stain remover
Stains are often part of the job, but some stain removers can impact the colour of your scrubs. Choose a colour-safe option to remove stains without affecting the appearance of your scrubs. Treat your stains before you wash, paying attention to the kind of stain you're dealing with.
5. Dry your scrubs thoroughly
A hot cycle in your tumble drier will further help to disinfect your scrubs. If the weather allows, you can line dry in the sun.
The final step to a perfectly polished set of scrubs is a hot iron. This is a good time to check for wear and tear, any other concerns.
View our full range of scrubs here or if you want assistance with a uniform solution, contact us here