NNT Uniforms, Workwear Group's corporate and health care uniform apparel brand has made a bold move and launched their first-ever 100% digital campaign. Titled 'Brand New Day', the campaign, showcasing the Autumn-Winter 2021 range includes an interactive site with shoppable links, videos and a working from home playlist supported by Spotify.
Head of Marketing & Customer Service, Vanessa Marven commented:
"We saw an opportunity to really recognise the current working environment and just how much that has changed in the last 12 months. Flexible working is now the norm. We wanted this campaign to reflect that, as well as to showcase our product innovation and versatility while the campaign theme of 'Brand New Day' points to the optimism of better days to come.
"Also, being digital-first will provide us with valuable insights into customer behaviour, which will inform future product development and campaigns."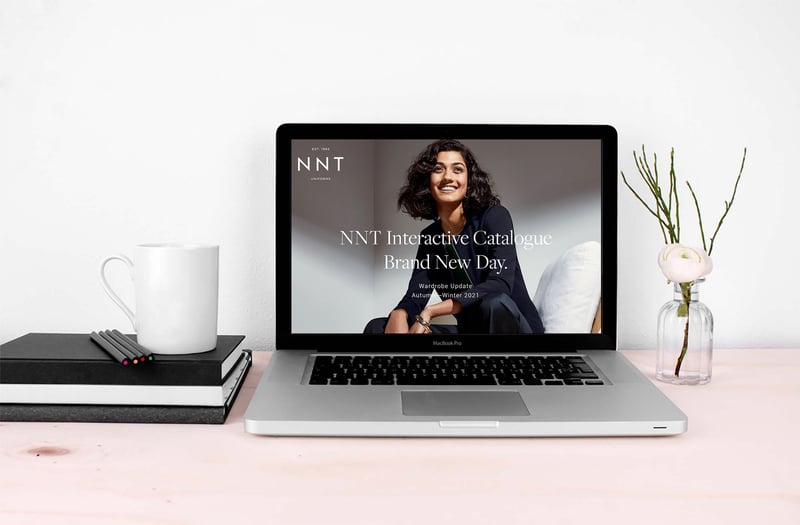 One of the featured products is a machine washable suit made from air-spun yarn Ponte, delivering exceptional flexibility and movement to the wearer. Bridging the gap between work and leisure, the nature of this fabric means this suit is lightweight, breathable and crease resistant with no risk of fade or pilling.
The Workwear Group team engaged creative agency Bison to lead this project and take the NNT brand to the next level.
"The Autumn/Winter 2021 brief required a digital-first approach, providing the opportunity to further cement the NNT brand as the industry leader, and introduce a truly interactive publication and an elevated customer experience." said Owen Lewis, Creative Director at Bison.
"By integrating audio and video and connecting each product with the web store, the customer can discover product information and highlights, listen to playlists, and shop directly from the catalogue by simply scrolling."
"Moving to digital also provides robust data on how the reader interacts with each page. It's been such a great collaboration between Bison and the NNT project team, and we're very excited to see it launched."
The Campaign

A Brand New Day is on the horizon and NNT Uniforms is proud to reimagine the work wardrobe to ensure we will have you looking and feeling your best whether working from home or in the office.

NNT continues to incorporate the latest technology, innovation and performance fabrics to ensure our garments are fit for purpose. These flexible, multifunctional pieces will become evergreen wardrobe staples as you continue to reach for them, season upon season.
It is a Brand New Day – and it is yours to own.
To view the campaign and new collection visit the interactive site here